CAMPING SICILY
camping Sicily | Weekends and holidays in campings Sicily
camping in provinces of:
Agrigento (AG)
Caltanissetta (CL)
Catania (CT)
Enna (EN)
Messina (ME)
Palermo (PA)
Ragusa (RG)
Syracuse (SR)
Trapani (TP)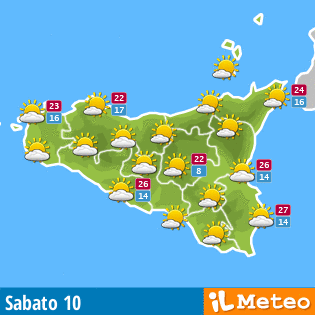 Weather Forecast details
Prices camping Sicily
To the right in the list campings are highlighted the
prices camping Sicily
.
Prices camping minimum price per person per day
Prices camping minimum for apartment / double room per day
List campings in Sicily
Search nearby
Prices camping Sicily
for one night or a longer stay (weekend or holiday) and use it as "
holiday home
" in December - January - Febraury for the discovery of the beautiful territory of the region
Sicily vacation
.
Region rich in history, culture and traditions and, thanks to its inhabitants, very cozy. You can book your
camping cheap
for your
holidays in Sicily
.
---
Interesting Areas in in Sicily
Castellamare del Golfo: Panorama
Di Sicilianmama from SCIACCA, SICILY ITALY (Belvedere) [CC-BY-2.0], attraverso Wikimedia Commons