CAMPING LAZIO
camping Lazio | Weekends and holidays in campings Lazio
camping in provinces of:
Frosinone (FR)
Latina (LT)
Rieti (RI)
Rome (RM)
Viterbo (VT)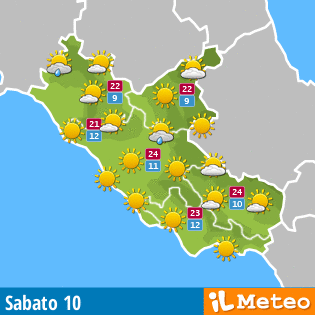 Weather Forecast details
Prices camping Lazio
To the right in the list campings are highlighted the
prices camping Lazio
.
Prices camping minimum price per person per day
Prices camping minimum for apartment / double room per day
List campings in Lazio
Vista della basilica di S.Pietro in vaticano (section photo)
Search nearby
Prices camping Lazio
for one night or a longer stay (weekend or holiday) and use it as "
holiday home
" in December - January - Febraury for the discovery of the beautiful territory of the region
Lazio vacation
.
Region rich in history, culture and traditions and, thanks to its inhabitants, very cozy. You can book your
camping cheap
for your
holidays in Lazio
.
---
We found
9
Current Page:
1
Multiple Contact
Contact most camping at the same time
In list contact are inserted the first
50
structures.
Use the
Filtered Search
to redefine the List.
camping
BBISOGNATORI
04020
-
Campodimele
- LT
Italy
contrada vallemarola
Tel.3345754994/3396919605
camping
ONDA CAMPING VILLAGE
00040
-
Ardea
- RM
Italy
lungomare tor san lorenzo 97
Tel.069102900
camping
CAMPING LA FOCE
04023
-
Formia
- LT
Italy
via passaturo 27
Tel.0771720025
camping
TERME VARRONIANE
03043
-
Cassino
- FR
Italy
via terme 5
Tel.077621144 - 077621461
camping
CAMPING INTERNAZIONALE DI CASTELFUSANO
00122
-
Rome
- RM
Italy
via litoranea 132
Tel.065623304
from:
80 €
Person/d
camping
CAMPING PORTICCIOLO
00062
-
Bracciano
- RM
Italy
v.porticciolo
Tel.+390699803060
from:
6 €
Person/d
| from:
25 €
Double room/d
camping
CAMPING EDEN
04020
-
Fondi
- LT
Italy
via flacca km 2.200
Tel.3349195527
from:
10 €
Person/d
camping
CAMPING FIUMATA
03010
-
Filettino
- FR
Italy
località fiumata - filettino fr
Tel.06-6874336
from:
7 €
Person/d
camping
CAJETAS - USODIMARE
04024
-
Gaeta
- LT
Italy
via flacca km. 20,800
Tel.0771 743040
Interesting Areas in in Lazio
Parco Nazionale del Circeo - Laghi costieri
Di Hengist Decius (Flickr) [CC-BY-2.0], attraverso Wikimedia Commons